This piece was sitting down in the basement, doors detached, at a local estate sale.  It was piled high with stuff, so much stuff that you couldn't easily see the condition it was in. We moved as much as we could to take a better look and determined the buffet only needed a few touchups.  We scored a great deal.
Before I could even begin painting, I had to clean it, fill in all the scratches and try to replicate a piece of missing trim. The missing trim piece was small so instead of paying a lot of money to have one made, I used Elmer's Wood Filler to mimic the missing trim. It took a few layers and a full day to dry but once it was sanded smooth and painted, it blended quite nicely.  It's not a perfect match but I think with a little more practice I can use wood filler to mimic just about any small piece of trim or applique.
I was anxious to get started since it did take me awhile to prepare it for painting (clean, fill, remove hardware and repair trim).  The buffet took two coats of Annie Sloan Duck Egg. You can see in the picture how some parts of the top are still shiny. That's because it's still wet. You will know it's completely dry when it's lost its sheen and looks a bit chalky.
I distressed the buffet while focusing on the nooks in the sides and legs. I really like the color combination of brown and Duck Egg so I wanted some of the wood to show through. I also distressed the top and drawers just a tiny bit. Then I spray painted the hardware to match the brown that would show through the top coat. The original handles went from gold to bronze.
For the finishing coat, I wanted to try something a bit different. Usually I use the dark or clear wax to finish a piece but I thought I would try a technique I learned about in an Annie Sloan Chalk Paint class I took at Carter's Cottage.  I mixed a bit of Old White with the clear wax. You are supposed to use equal parts of wax and paint but I used more clear wax and less Old White to come up with the finishing coat. I am not a fan of the dry brush look but I still wanted a little bit of white to add some texture. I think the colored wax added a soft beach feel to the already soft look of the buffet without leaving streaks that you sometimes see with the dry bush effect. You can try mixing any colored paint with the clear wax to come up with your own finishing touch.
What I love about it is that I think it would fit into any décor, depending how you accessorize it. For now it has found a home in my dining room until I'm ready to part with it.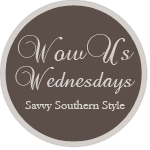 This post has been featured on:
The beachy blue buffet has been a hit. It has been featured again at http://16lstreet.blogspot.com/ and Jody Blonde loved it enough to mention it in her blog as well. I'm glad so many people have enjoyed the color. I may have to use this technique again.
Related Posts:
Pin It